Glen Paine Receives Lifetime Achievement Award from The Marine Society of The City of New York




Retired MITAGS-MCC Executive Director honored at March ceremony in New York City.
Baltimore, MD – April 7, 2022 – Glen Paine, retired executive director of The Maritime Institute of Technology and Graduate Studies (MITAGS) and Maritime Conference Center (MCC), received the annual lifetime achievement award from The Marine Society of The City of New York.
 
Paine dedicated 23 years at the helm of MITAGS-MCC before retiring in January, leading the organizations to become a world-class maritime institution and expansive conference center and hotel. Under his direction, MITAGS has won numerous awards over the years for its Navigation Skills Assessment Program (NSAP)®, Workboat Academy Program™, and advancements in simulation technology and research for the maritime and offshore wind industries. MCC has also previously been named "Best Venue for Conferences" by Unique Venues.
 
"It was heartening, that Glen was selected for the prestigious Lifetime Achievement Award," said Eric Friend, Executive Director of MITAGS-MCC. "Those of us that were fortunate to have a front row seat to Glen's work ethic out of the public spot light know that everyday he came to work and choose his passion.  Glen demonstrated that passion was a daily commitment to serve the members of MM&P, mariners, and maritime industry.  We are so happy that his lifelong passion was recognized with this award."
 
Paine accepted the prestigious award at a ceremony held on March 28th in New York City, in the presence of colleagues, friends, and the U.S.-flag merchant ship captains and officers who belong to the Marine Society.
"Glen's tireless work, vision and dedication transformed MITAGS from just another union training school to one of the premier maritime training facilities in the world," said International Organization of Masters, Mates & Pilots (MM&P) President Don Marcus in his introductory remarks. "The membership of MM&P and many mariners from all corners of the globe have advanced their careers thanks to his vision and contributions to maritime training."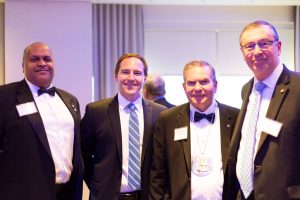 The Marine Society is a charitable and educational organization, formally chartered by King George III in 1770.
"This award was presented to Mr. Paine in recognition of a lifetime of leadership, and dedication to the maritime industry through the education and advancement of its members," said Captain Timothy J. Ferrie, President of the Marine Society. "It is a well-deserved award and the Society is proud to acknowledge his distinguished service and contributions to the industry we all hold dear."